The Android EMM solution set is intended for school-owned devices. Managed features give IT admins control over an extended range of device settings and additional policy controls.
To view and configure these controls, follow the instructions below:
1. Log in to your school dashboard
2. Navigate to the Profile Section on the Main menu
3. Select your desired profile (if you have set up a conditional profile or use the baseline) by clicking the edit icon on the right of the profile details.
4. Select the What tab and click on Restrictions.

5. Select the ANDROID tab and it should display all Android Legacy and Android EMM settings
Please Note: The LEGACY SETTINGS applies to all Android devices while the EMM SETTINGS applies to only EMM enrolled devices. You can activate any of the restrictions and click on the SAVE button at the bottom of the screen. The settings will be applied when you next perform device sync.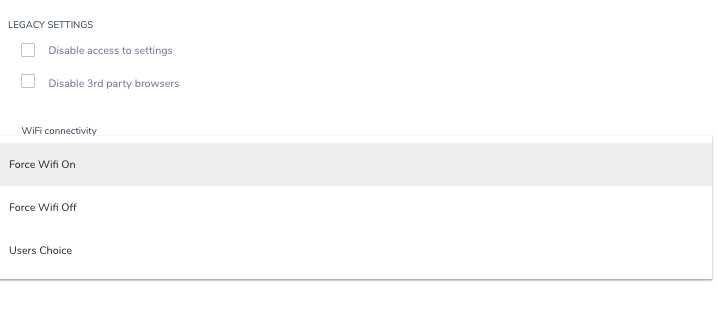 EMM Settings
Below displays, the list of settings applicable to EMM-managed devices alongside a brief description. These settings are displayed on the dashboard and can be enabled or disabled.
Ensure you are aware of the relevant settings and their application.
Application Management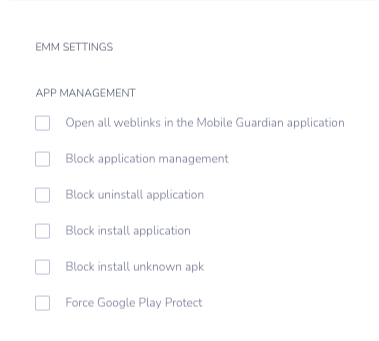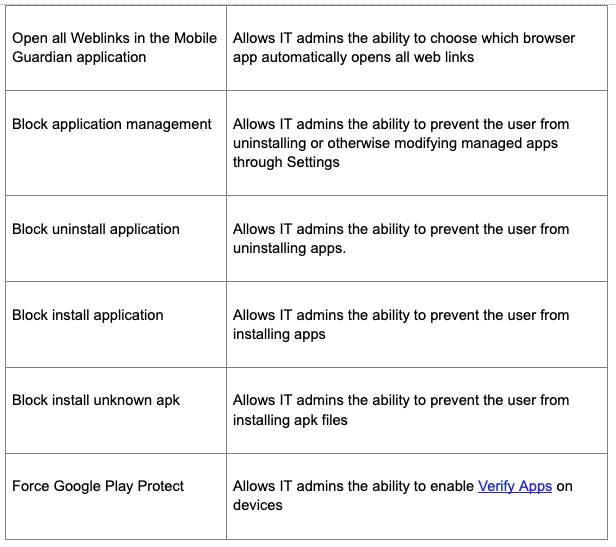 Audio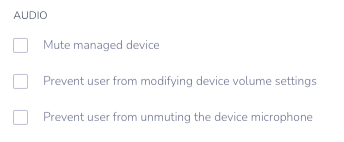 Mute managed device

Allows IT admins the ability to

silently control device audio features

, including muting the device, preventing users from adjusting volume settings, and preventing users from unmuting the device microphone.

Prevent user from modifying device volume settings

Prevent user from unmuting the device microphone
Connectivity Configuration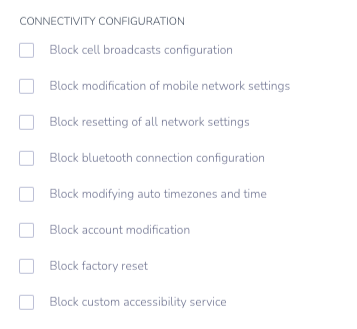 Block cell broadcasts configuration

Allows IT admins the ability to disable cell broadcasts sent by service providers

Block modification of mobile network settings

Allows IT admins the ability to prevent users from modifying mobile network settings in Settings

Block resetting of all network settings

Allows IT admins the ability to prevent users from resetting all network settings in Settings

Block Bluetooth connection configuration

Allows IT admins the ability to prevent users from configuring or modifying existing Bluetooth connections

Block modifying auto time zones and time

Allows IT admins the ability to

enforce system auto time

preventing the user from setting the date and time of the device.

Block account modification

Allows IT admins the ability to prevent users from

adding or modifying accounts

Block factory reset

Allows IT admins the ability to

prevent users from factory resetting

their device from Settings.

Block custom accessibility service

Allows IT admins the ability to control what

accessibility services

can be enabled on users' devices
Device Connectivity Options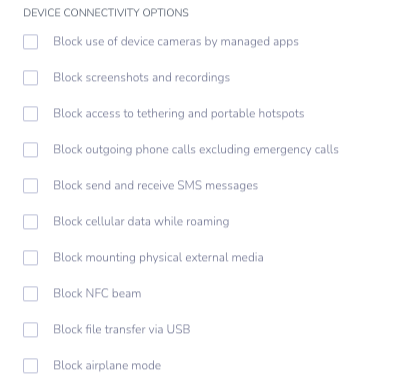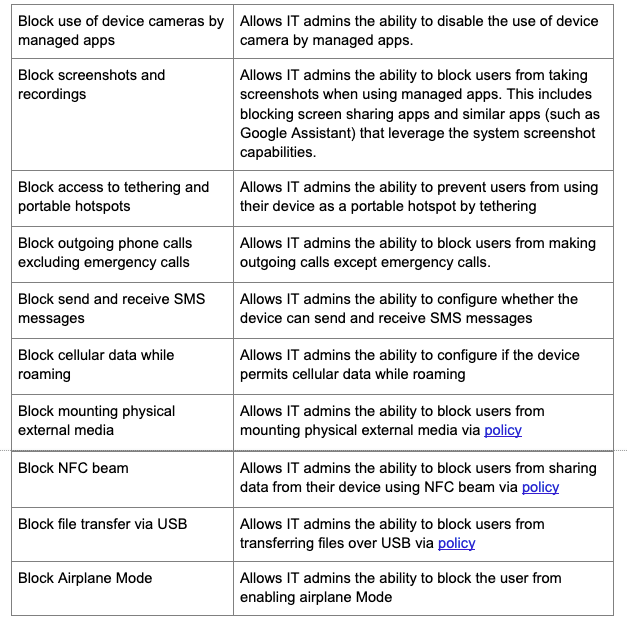 Screen Lock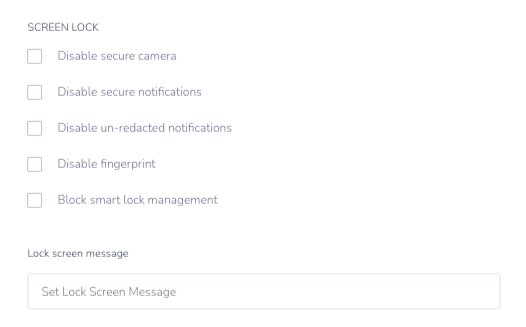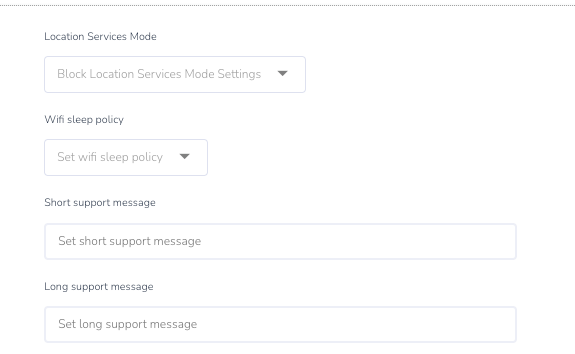 Disable all Keyguard features

Allows IT admins the ability to

control advanced device keyguard (lock screen) features.

Disable secure camera

Disable secure notifications

Disable un-redacted notifications

Disable fingerprint

Block smart lock management

Lock screen message

Allows IT admins the ability to a custom message that's always displayed on the device lock screen, and does not require device unlock to be viewed.

Location Service Mode
- Off
- Sensors only
- Battery saving
- High Accuracy

Allows IT admins the ability to enforce a given location sharing setting on a managed device. This feature can ensure, for example, that corporate apps always have access to high-accuracy location data, or that users don't consume extra battery by restricting location settings to battery-saving mode.

WIFI Sleep Policy
- Never while plugged in
- Never
- Default

Allows IT admins the ability to set the WiFI timeout to default, only while plugged in, or never

Short Support Message

IT admins can set a short message that will appear in the mobile Guardian customized restriction pop-up

Long Support Message

IT admins can set a long message that will appear in mobile Guardian customized restriction pop-up