Safe Content and Web Filtering will allow you to block an end-user from accessing explicit content or content that you wish the end-user should not access.
Safe Content - This will enable the search engine to inject the Safe Search Option
Web Filtering - This will allow you to filter websites based on a category or URL
What will you learn?
How to configure Safe content
How to configure web filtering
Please follow the step by step guide.
I. Once you have logged into your Mobile Guardian Dashboard, On your left-hand side panel click on "Profiles",

II. Once you click on "Profiles", you will be redirected to the "Profiles" page, On the Profile page you are able to edit any existing Conditional profile or edit the Baseline profile to add the "Safe Content and Web Filtering",
Note: When applying Safe Content and Web Filtering to the Baseline profile this will apply it to all devices on your Dashboard. When applying this to the "Conditional Profile" it will only be applied to those devices that have that specific Conditional profile active.
To add a Conditional profile you should go here.

The process of adding the "Safe Content and Web Filtering", to Baseline or Conditional profile is the same, but for the purposes of the guide we will use the Baseline profile.
III. On the right-hand side of the profile, click on the edit/pencil icon below "Actions",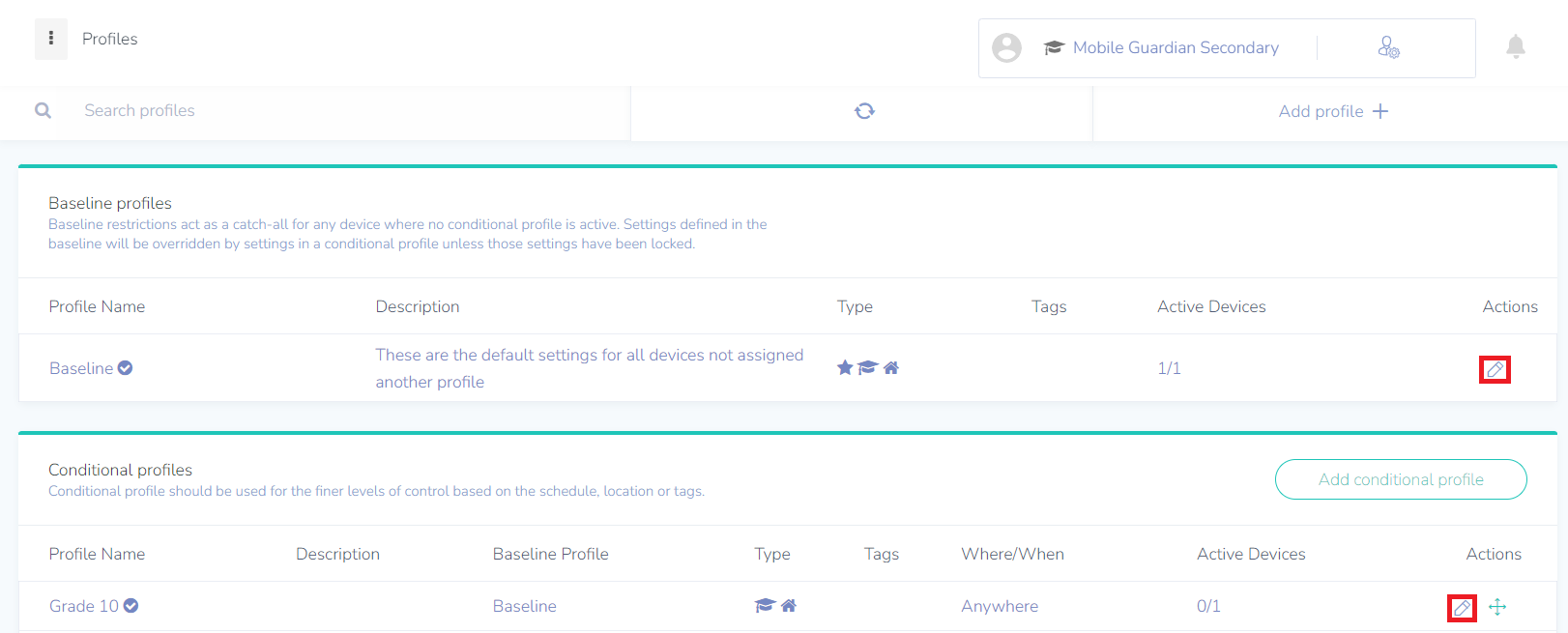 IV. Once in your selected profile, click on "Safe Content",
V. Once you have clicked on the Safe Content you will be directed to the Safe Content page.
a. "Enable web filter" check box needs to be checked first, which will allow you to check the "Enable safe browsing" checkbox and then click on Save.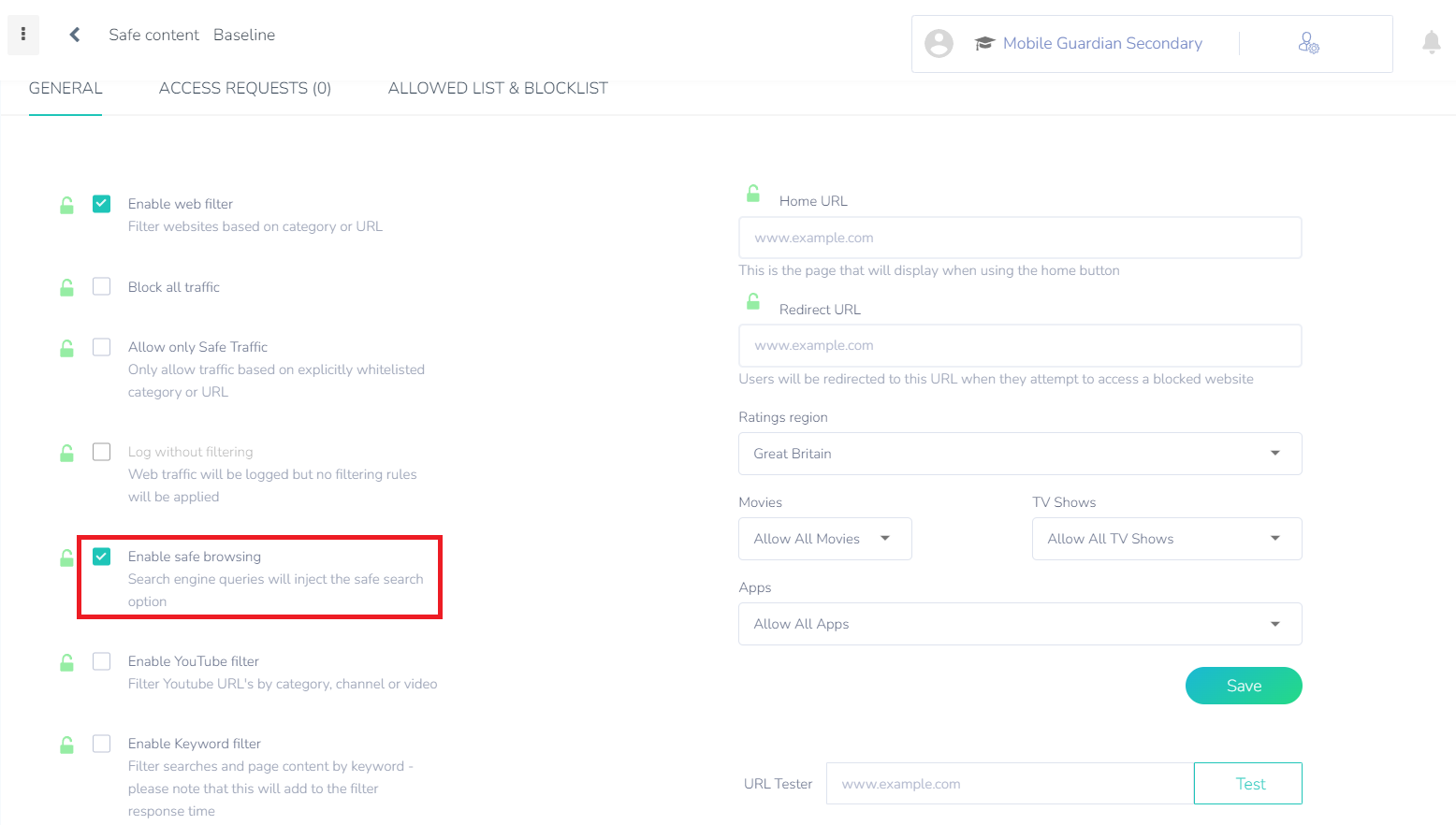 b. To filter a Website based on a category or URL, check the "Enable web filter" checkbox and click on Save, in the bottom right corner.
"Allowed list & Blocklist" tab will appear to click on this tab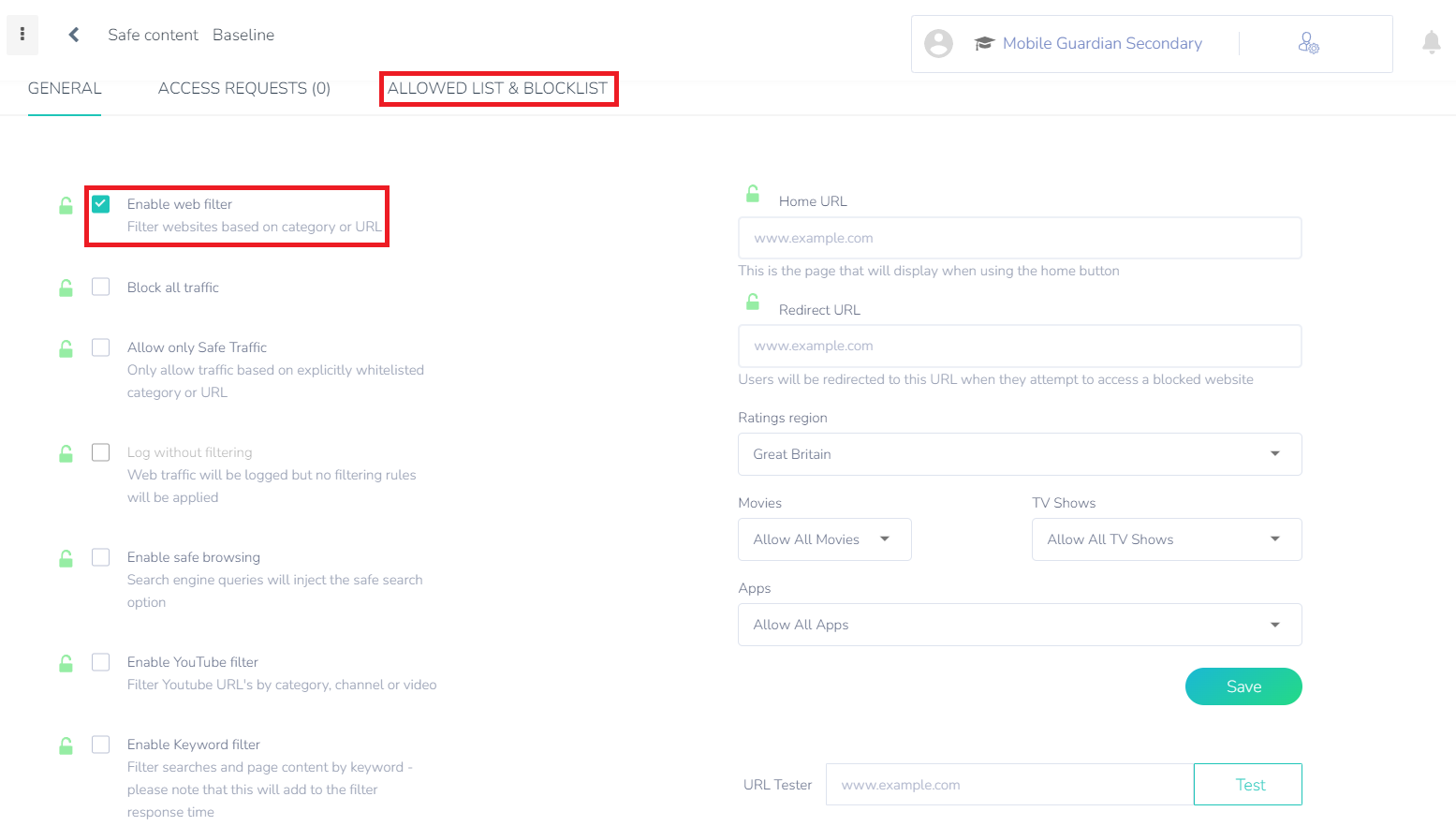 VI. Under Categories, you have a selected number of pre-configured category configurations. To start defining custom category blacklists and whitelists choose the "None" option.
Configuring the categories section will allow you to blacklist or whitelist thousands of websites. When a parent category is selected, all sub-categories will be checked initially, but individual subcategories can be excluded by clicking the down arrow and unchecking the desired subcategory.

VII. Under "Categories, Blacklist" click on the drop menu to add your selected category or categories that you would like to be filtered. You also have the option to add a specific URL that you would like to block.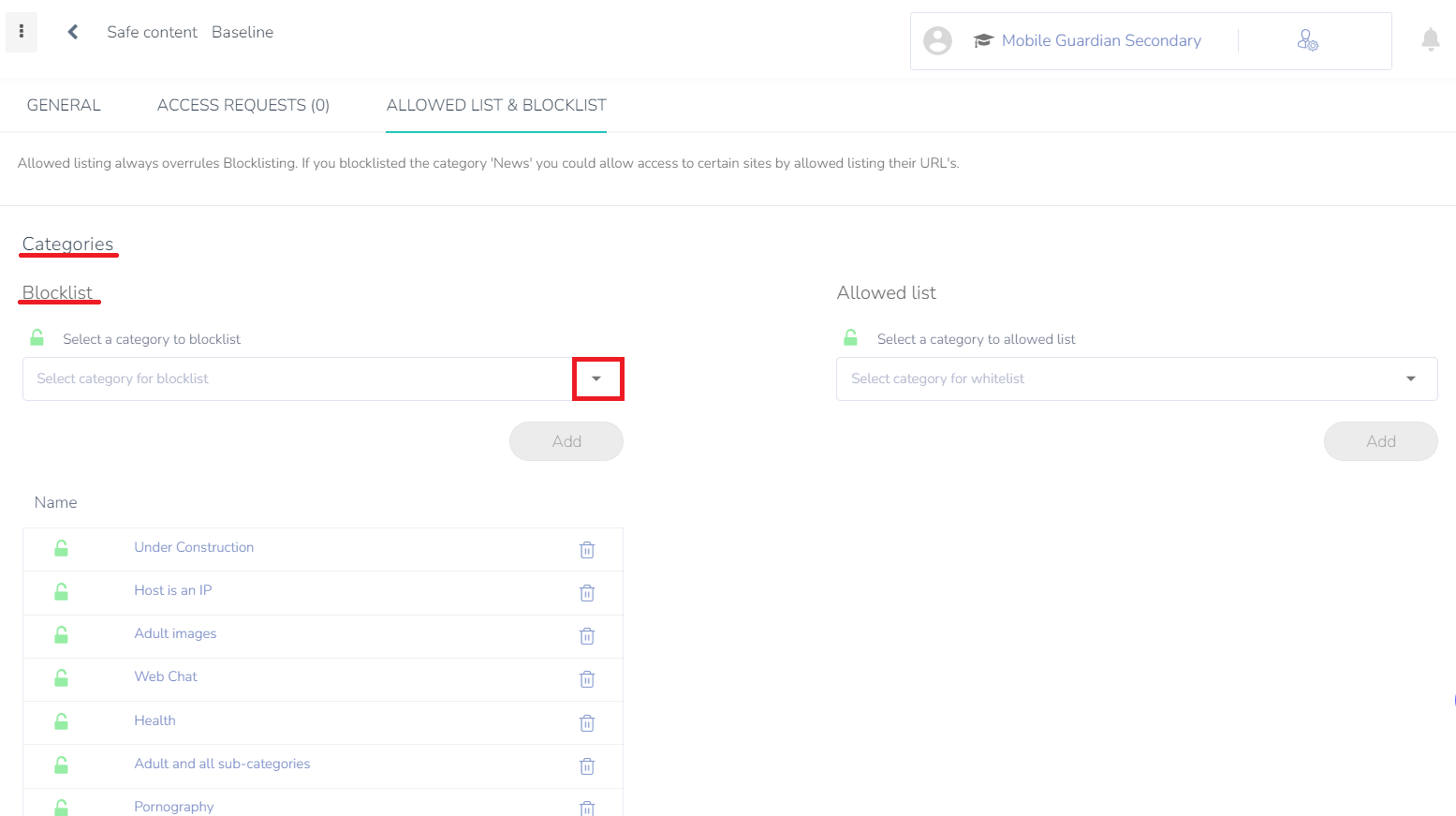 VIII. Once you have a category and/or URL filled in click on "Add".
Note: you can have multiple categories and URLs added
When Blocking Domain it blocks access to the entire domain that is stipulated. When adding the URL to the blacklist it will only block the specific URL that is added in the blacklist.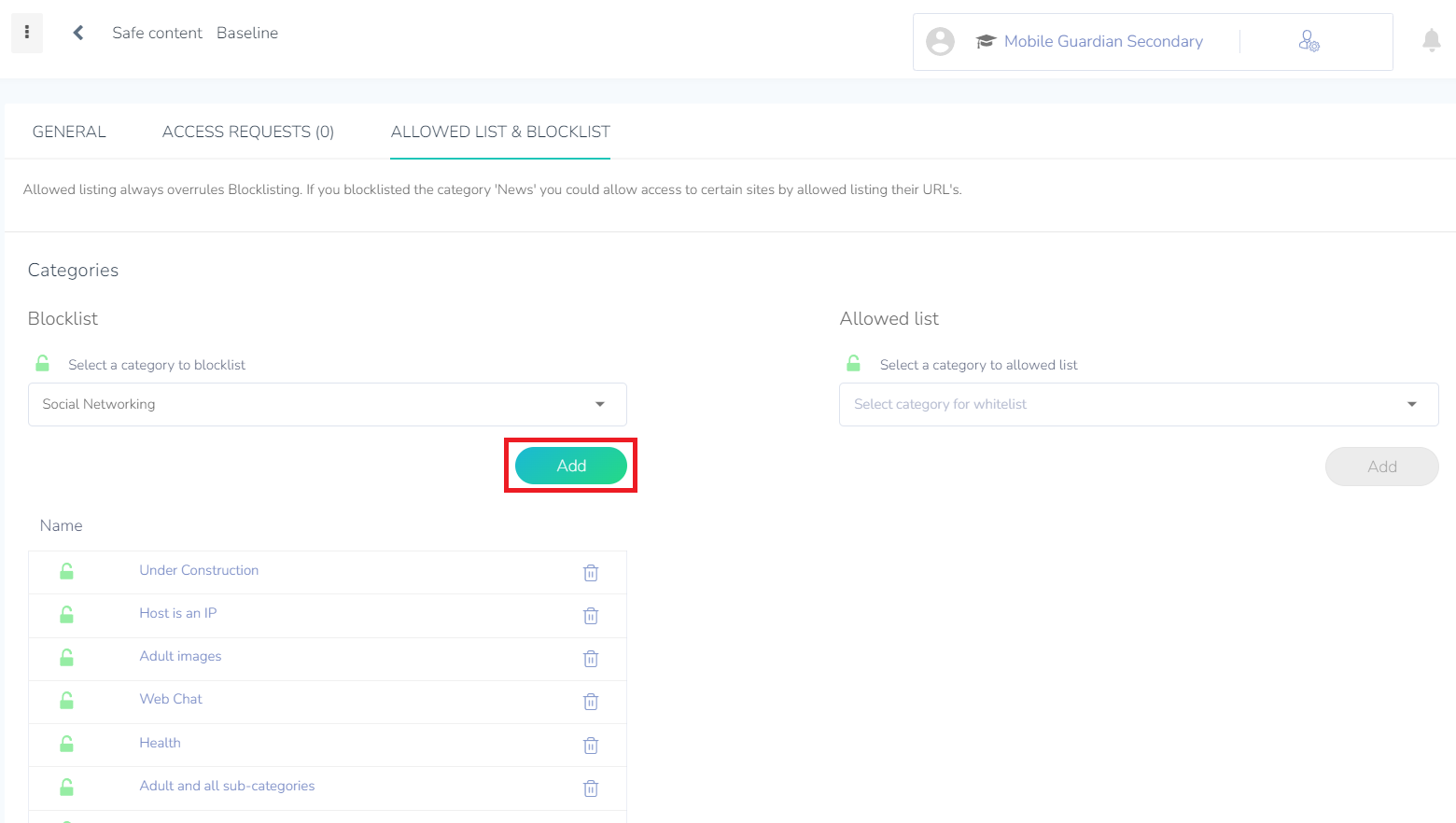 IX. Once you have entered in your selection of Blocked categories and URLs, you can click on the Back Arrow in the top right corner as your additions will be automatically saved.
Well Done!
You have now configured your Safe Content and Web Filtering.
Please let us know if you found this useful.
Thanks for reading :)