1. Introduction
Mobile Guardian supports both Apple School Manager and Apple Classroom App. Once ASM is configured within Mobile Guardian and the Apple School Manager portal (optional), the devices will be auto-configured on the next device profile refresh.
2. Requirements
GENERAL
WiFi

All student & teacher devices must be on the same network and accessible.

Bluetooth
Active on all student & teacher devices and in close proximity.
Bonjour
Not blocked on routers
ASM Account
Only if doing shared iPads
iOS
9.3+
TEACHER
iPad
iPad 3rd generation or later,
iPad mini or later
Supervised
Optional (recommended)
Can be shared
No
Managed AppleID
Optional
Classroom App
Required
STUDENT - 1-1
iPad
iPad 3rd generation or later,
iPad mini or later
Supervised
Required
Managed AppleID
Optional
Classroom App
No
STUDENT - SHARED
iPad
iPad mini 4th generation or later, with at least 32 GB of storage, iPad Air 2nd generation or later, with at least 32 of storage.
9.7‑inch iPad Pro, 12.9‑inch iPad Pro
Supervised
Required
Managed AppleID
Required
Classroom App
No
3. Configuration
The devices and classes with students need to be pre-configured within Mobileguardian.
3.1 Apple School Manager
If you need to use shared iPads, then you must at least set up the students in ASM and assign them managed AppleIDs. The students will be synced with Mobile Guardian. Apple School Manager is not needed if you are not using shared devices or managed AppleIDs.
3.2 Mobile Guardian
a. Initial Setup & Syncing
If you want to use your Apple School Manager users, you will need to configure DEP/ASM under Settings > iOS MDM Settings. Once this is complete your DEP devices and ASM users (both students/teachers) will be synchronised with Mobile Guardian. If you add students at a later stage to ASM, you will need to click 'Resync Users'. This is not required to use the Apple Classroom App.

b. Selecting which devices will be used in classroom.
The next step is to decide which devices will get used in a classroom scenario along with the Apple Classroom App.
Devices can be assigned 1-1 to a student or can be shared amongst a group of students. Shared devices need to be logged into by the student, using the students AppleID & password or another authentication method.
All devices to be used must be set as "Classroom Devices" as in the screen below. This screen is found in the device information page.

c. Configuring Shared Student Devices
Devices that are to be shared amongst students need to have the students allocated to the device. This is set in the Student Sharing Panel of the device.
Good connectivity is required in the classroom for shared devices, as all the user's data is synced with iCloud Drive when a student signs in or out.

d. Teacher Devices
Teacher devices cannot be shared and need to be allocated on a 1-1 basis per teacher.
This is done under Settings > Users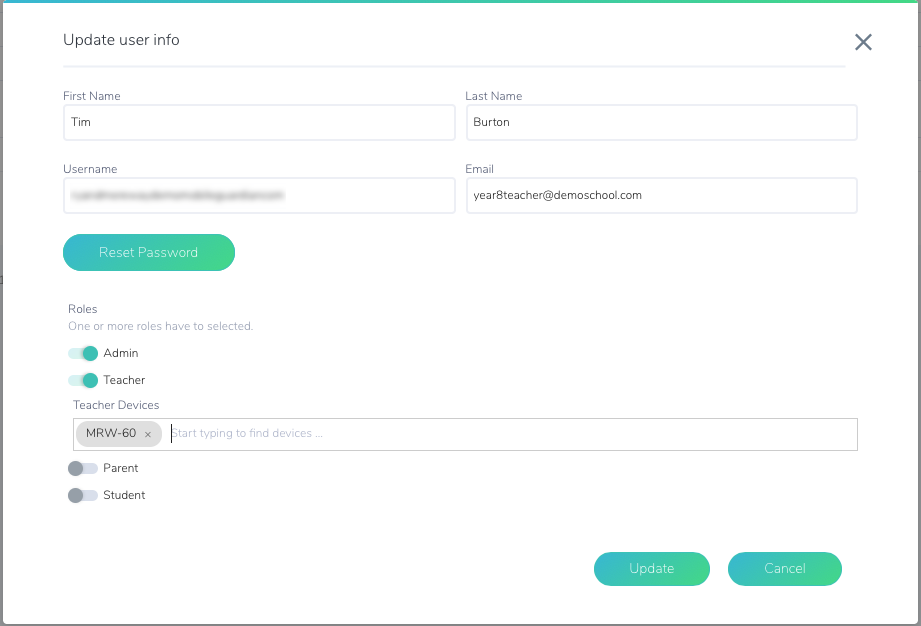 e. Apple Classroom App
The Apple Classroom App needs to be installed on all teacher devices. The devices themselves will need to be refreshed after installation of the classroom application, to make sure it has received and applied all the correct configurations.
We recommend installing the Classroom App with a tag on teacher devices.
f. Classes and Students
In order for the devices to be configured correctly and to allow teachers to control them, you will need to add students to the teachers classes. You can create classes in the teacher module or in Settings > Classes.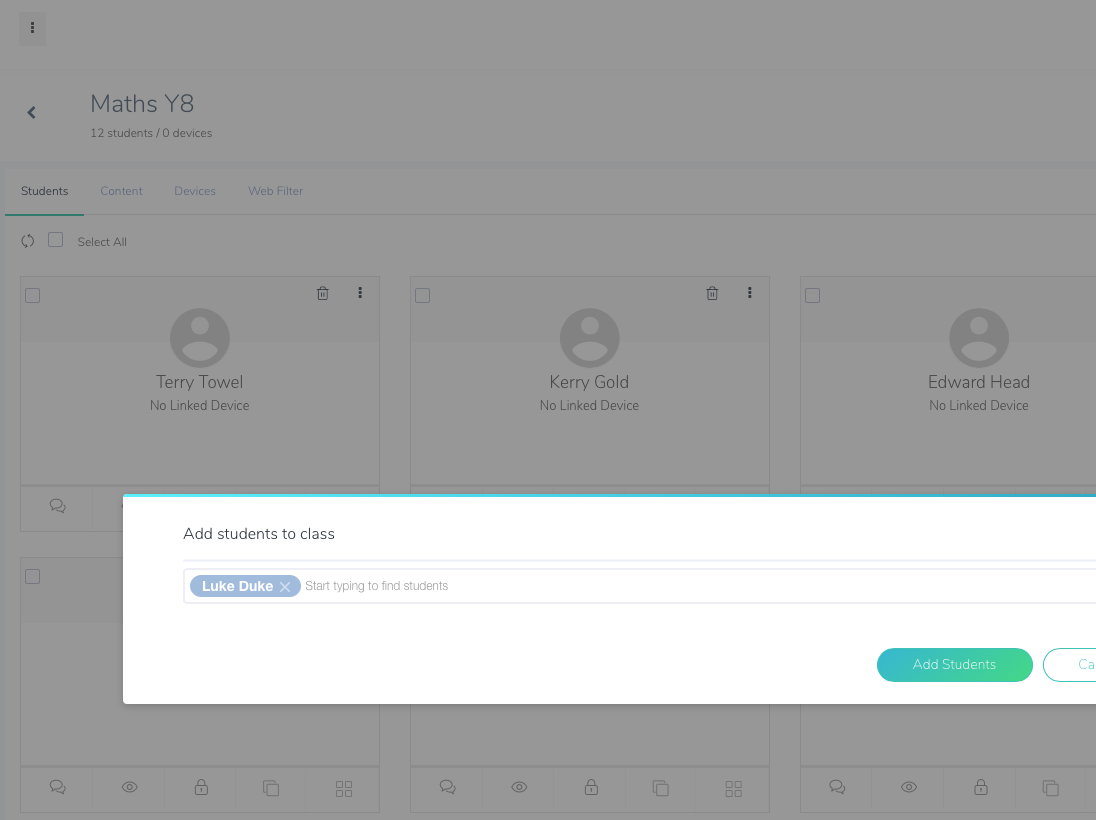 Make sure all relevant devices have been refreshed. You are now able to control with Apple Classroom.