One of the major features of the District Dashboard is Profile Groups. The new feature allows you to collate your Profiles together at the District Level and push them out to multiple schools in your district. This means you do not need to create the same profile multiple times across many schools and enables you to make changes once at the district level and then push these changes out saving you time and effort when managing your devices.
A Profile Group is made up of one Baseline Profile and Multiple Conditional Profiles. The following video shows the process for creating a Profile group:
Pushing Changes Out
Another benefit of managing your profiles centrally is being able to make changes once and then push them out to multiple dashboards. To achieve this saves any changes you have made to the profile and then save. Once you are happy with this, click the Push button to propagate these changes down to the Profiles at the school level.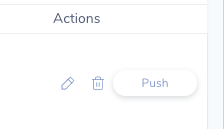 Please let us know if you found this helpful!
Thanks for reading :)