Once you have some devices added to your dashboard it's time to start managing them. By creating Profiles you can push out multiple restrictions and configuration items to your devices. This includes adding a web filter, blocking the camera, setting the device background, and much more*.

Mobile Guardian has 2 types of profiles; Baseline and Conditional. (Please see here for a more in-depth breakdown of these). Simply put, your baseline profile contains all the restrictions you wish to have in place whenever there is not a Conditional profile applied – meaning your devices are always protected no matter where and when they are.
Now is a great time to explore the various configuration options available to you. Our advice is to amend your baseline settings with the restrictions you wish to have in place and then move onto creating a Conditional profile that can apply according to the time/location parameters you set. You can find more information on this within the Profiles section here.
Whilst its important to become familiar with all of the restrictions available to you, some of the sections you may wish to investigate initially are:
Safe Content – here we set the web filter/keyword filter/YouTube filter. Ticking the box for web filter/keyword filter etc enables a new tab where the filters can be configured. – Please note that keyword filter and retrieve page title can slow the browser down.
NB The MG App is filtered on all operating systems
URLs that are Blocklisted are blocked, Allowed List always takes precedence over a Blocklist – If a URL Is Blocklisted via categories In the filter but Is then added to the Allowed List, this would create an exception for this address and It would be allowed. Our filter is a web-hosted filter from Netsweeper – all categories are set by them. Can be added/subtracted from with Allowed List/Blocklist. The Keyword filter allows for websites to be filtered for their content via Keywords. The keyword filter has prepopulated keywords but can also add your own.
*Always remember to save any settings*
Restrictions - This Is where the majority of restrictions are applied. It varies greatly by the operating system. iOS device restrictions are affected by the supervision state of the device. (Supervised devices allow for far greater control). All restrictions here advise what they are applicable to with regards to supervision and OS version.
Passcode - Allows you to set passcode restriction on your device.
Network - Here you can set any WiFi/Proxy details which the devices will need to connect to.

Accounts - Gives you the ability to configure (LDAP, GOOGLE & MAIL) accounts.

Exchange Settings - Enables you to register exchange configurations.
Applications - You can Allow List/Blocklist applications in the field specified below
Allowed List means only the applications on this list will be displayed at the exclusion of all others.

Blocklist simply blocks/hides (depending on the OS) the apps on the list when the profile is active.
There is essentially only one list of applications and you can either block or allow them.
The active option will be the one highlighted in Green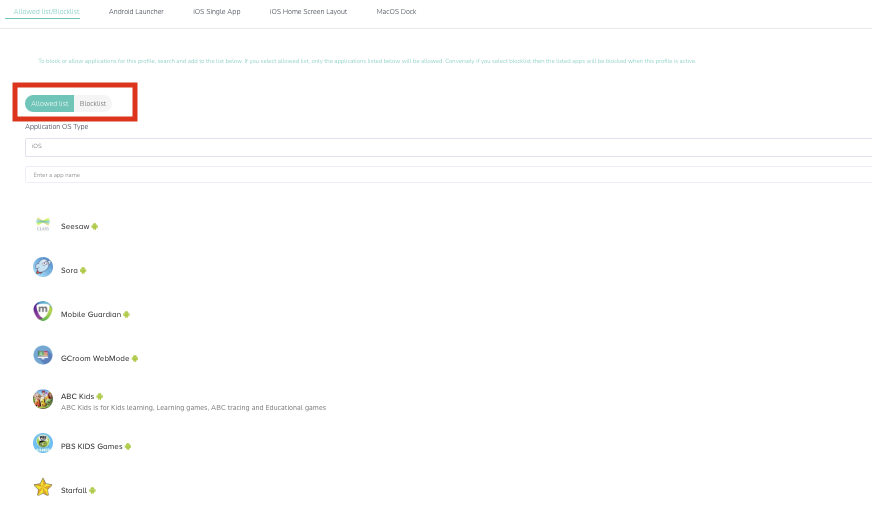 Note: You can only either Blocklist or Allowed list If you select allowed list, only the applications listed below will be allowed. Conversely if you select Blocklist then the listed apps will be blocked when this profile is active.
Single app mode locks the app into 'kiosk mode'.
Home screen layout - The screen layout works the same way as an iPhone, drag and drop. Can create new groups etc. – NB by selecting 'add' from the group of apps on the list DOES NOT install them – this only works if the app is installed on the device in the first place.
Web clip and Wallpaper - This allows for configuration of device wallpaper and for Web clips to be pushed out as part of the profile.


Airplay and Airprint - Gives you the ability to add Airplay and Airprint devices that you have added under your School's settings.
MacOS Login - Here you can enable MacOS Login items that will be applied to the devices at Login.
Calendar - This allows you to configure and sync calendars on your profile.
Contacts - Allows you to add CardDav email contacts.