You can blacklist or Whitelist applications for a profile.
If you select whitelist, only the applications listed will be allowed when this profile is active.
Conversely, if you select blacklist, the listed apps will be blocked when this profile is active.
Go to the Settings section, click on the Open / Close group arrow and then click on the Pencil icon for the profile whose settings you wish to modify.

Under What, click on Applications.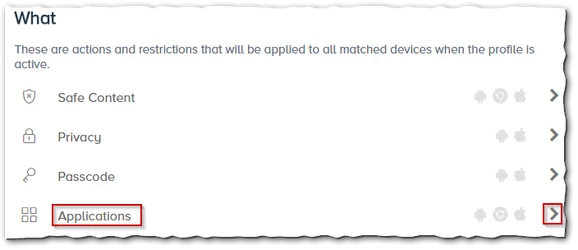 On the slider, select either Whitelist or Blacklist and then select an OS (Android or iOS)  from the drop-down list.

To search for an app, enter an app name or part thereof and then select one from the drop-down list. Click Add App.

The new application is now linked to the profile you selected. If you want to remove it, click on the Bin icon.