Parent Control will allow you to create a safe online experience for your children.
Once you have registered your child's device with Mobile Guardian, the next step is to configure their restrictions profile. This will allow you, as a parent, to manage their online experience and ensure that a safe space is achieved.

We will take you through the following:
The Two Types of Restriction Profiles (Baseline vs Rule)



1. The Baseline:
To begin we first need to define the baseline profile, this profile is a set of pre-configured restrictions and settings that will apply as a foundation for your child's device and will act as a safety net on a day-to-day basis for any device when no rule is being applied.
To manage or view the baseline of your child please follow these steps to help you get there.
I. Click on the gear icon of the child you wish to view or edit
II. Select Settings.
III. This will take you to an empty settings menu.
You may select any of the high-level menu items which will allow you to configure these settings/restrictions.
A Baseline profile will remain on a device at all times to act as the "safety net".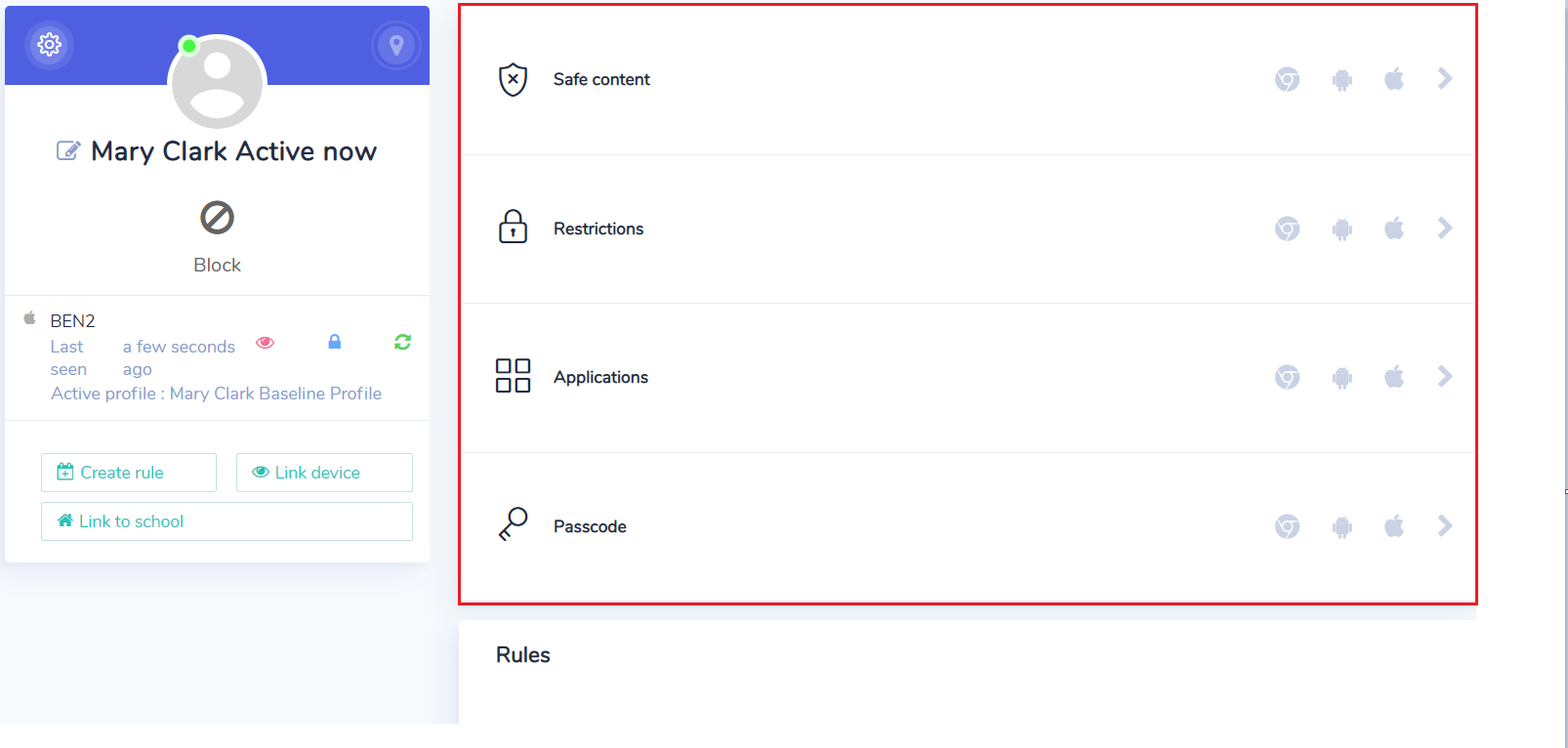 Once you have completed the setup of the restriction profile, navigate back to the home dashboard. What you should see active on your child's device is the newly configured Baseline Profile, this is displayed in the following way; Active Profile: (Insert Name of your child) Baseline Profile when the baseline profile is applied.
Please Note: This will appear when the device is first enrolled on the dashboard and whenever you have no rule being applied.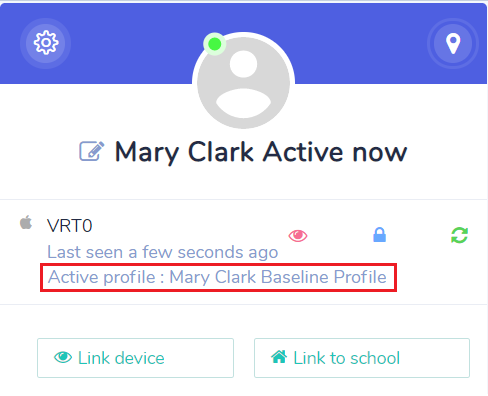 2. The Rule:
As we know your child may need to have access to his/her device at any given time of the day and at different locations, therefore we provided the option to create rules that can be applied to various scenarios.
A Rule is a set of restrictions and settings you would like to apply to your child's device at a specific date/time setting or when the device arrives at a specific location. These rules can also be triggered immediately when you would like to forgo the schedule or location settings. Below is a few scenarios where you might want to consider applying a rule.
Rule Scenarios:
Homework time is a profile created for Mary when she is at Home or at her Grandma's house(GPS coordinates) during the scheduled Homework time (3 PM - 4 PM during the week)

When the rule is active during the above schedule Mary cannot access Youtube and has medium levels of safe content filtering not allowing keywords such as games or shopping.

However if on some occasion she goes to a Tutor after school, you may then apply the homework profile rule immediately using the manual rule override and stop this rule when Mary has completed her after-school tutoring.
Please Note: A rule can be used on multiple devices, you will then be able to use a rule for any number of your devices enrolled on the dashboard. This means that you can apply the Homework time profile we created above to Bob and Mary without any issues.
Let's go through this in more detail.
Creating a rule:
So now that we know what a rule is and the benefits of using a rule, we will look at how to create and apply these rules.
If you would like to read more on how to create zones and schedules for your parent account, we recommend taking a look at the below articles for each:
A Schedule - A time and date setting that the rule will abide by when applied to your child's device. If you would like to set this up now for your account, please see this

Link

to guide you through the steps.

A Zone/Geofence - This is a location setting that the rule will follow when applying to a device This location setting can be set by IP Range, Beacon, Wifi, or GPS coordinates to allow rules to apply in different places. If you would like to know how to set this up follow this

Link

for

the guide.
Let's get started.
I. Login to the parent dashboard with your email and password.
II. Now select the "Gear icon" on the child card you wish to edit.
Please note: You can either select Create rule from the drop-down menu or click "Settings" and from the child card click on "Create a rule" under the device name on the card.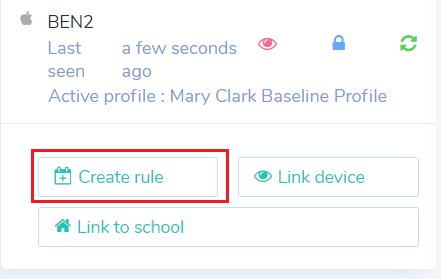 III. The Rule creation screen will allow you to give your rule a name , confirm the child you would like the rule to apply to and set application parameters (Manual or based on schedule or location).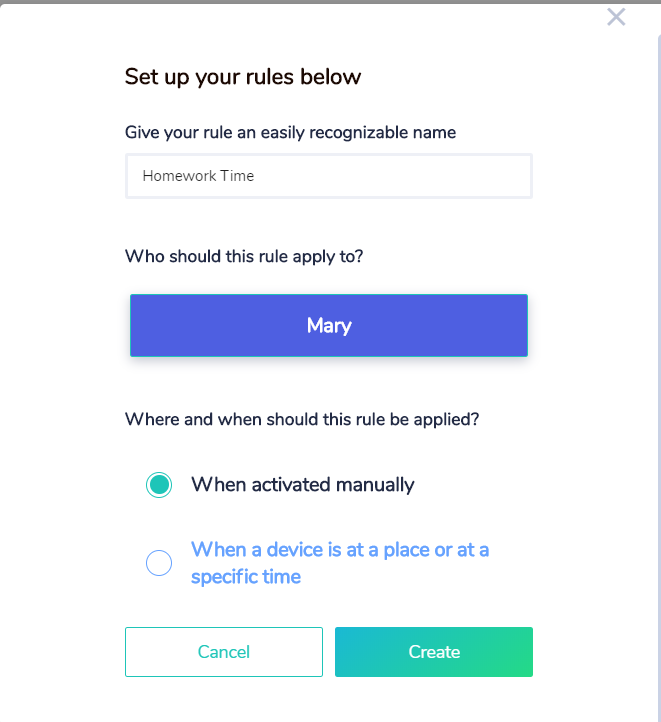 IV. If you are going to select the second option under , you will be given the following configurations: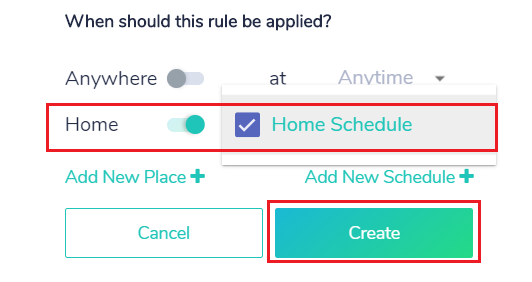 This is where your predefined Zones or Schedules can be used with your rule, to choose where or when the rule will apply, you can use either use both a location and time or you can use one of them. This is up to you whether you would like to use one or both.
Please note: It is also possible to not select a Zone or a Schedule and simple select the default Anytime or Anywhere option we have provided. This option is here when you would like to create a rule purely to be manually applied to the device at any point in time you trigger it ( We will explain this in more detail further down).
Well done! you have successfully completed the first step in rule creation.
V. Next we have to start adding your restrictions. If you click on the "Gear Icon" and then Settings, you will then see under the Rules heading the rule that you created. In this view you will be able to see a preview of the rule parameters which will include:
Name of the rule
Where it will be applied
When it will be applied
Preview of settings enabled

VI. Click on the edit icon (pen) and start configuring your appropriate level of web restrictions and app management you would like for this rule. The article below will go into detail around the various restrictions and management configurations:
https://help.mobileguardian.com/hc/en-us/sections/115001213029-Managing-your-child-s-restrictions-
How to apply a Rule
Once your rules have been setup and configured we can now focus on how these rules are applied.
There are two ways of applying rules:
I. A Running Rule
A running rule is a rule setup using a schedule or a zone, when this rule is created it is by default enabled and will become active when it is triggered by the zone you selected or the schedule you have applied.
When the rule becomes active you will be able to see your child's device switch from the Baseline profile to your Rule.
Once the schedule is complete or the device leaves the set zone, the running rule will end and the device will go back to the baseline profile.
Please Note: If you do not want a running rule to take place that day, please disable this rule an hour before schedule or before you enter the set zone. A running rule cannot be stopped once it has started.
II. An Overriding rule
An overriding rule is triggered manually outside of the scheduled times and zone, set by the rule. This will override the running active rule and the baseline and immediately apply your selected rule.
Applying an override rule
As a parent, we are aware that you might want some flexibility in when you want to apply your various rules. An override rule allows you to manually trigger one of your rules with immediate effect.
You can use the overriding rule on the child and their device by following the below steps:
I. Click on the "Gear Icon" of the child card you wish to apply the rule and click on "Apply Rule":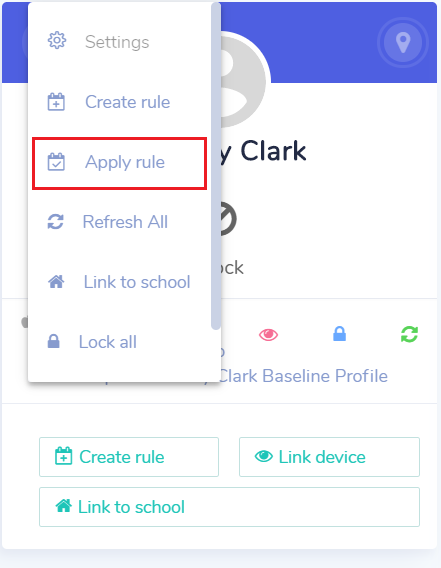 II. Now you can select which rule you wish to apply and override which in the example below is the Homework Time profile: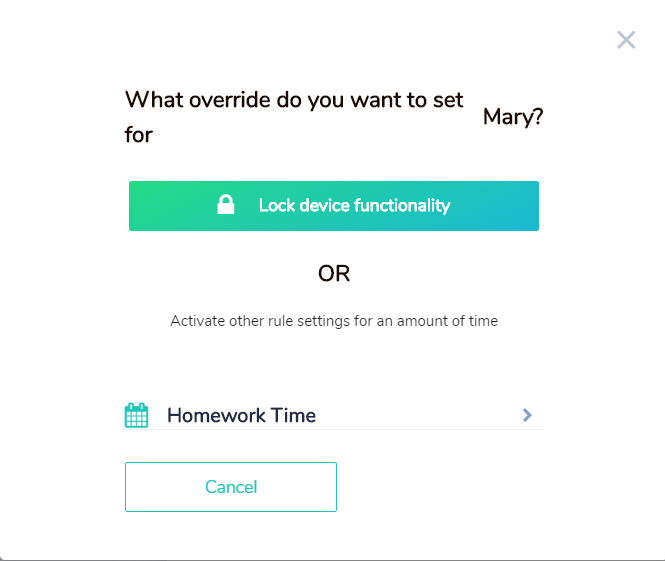 III. You will then be displayed the option to set a duration for the rule or to select the option to manually stop the rule yourself.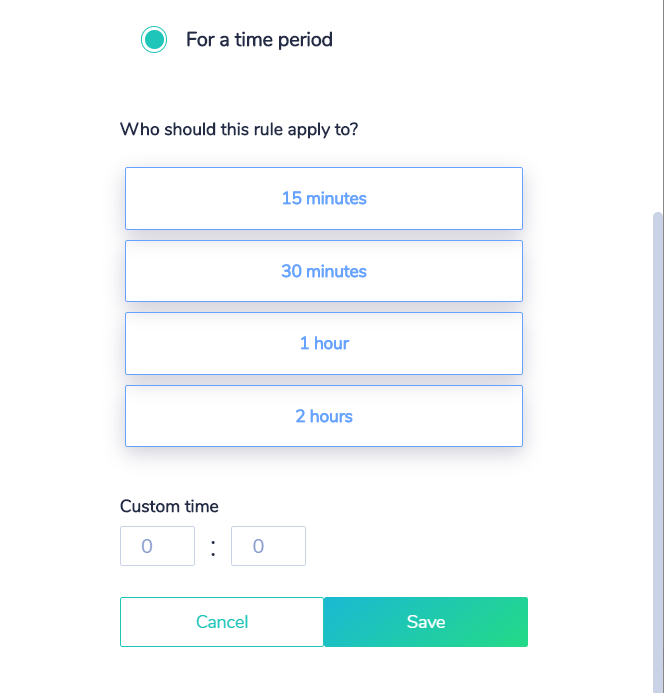 IV. Once you have decided how you want the overriding rule to apply you may click "Save".
This will apply the override now. You will see on the child card below that the profile is now active and may provide a countdown if you selected a certain time period: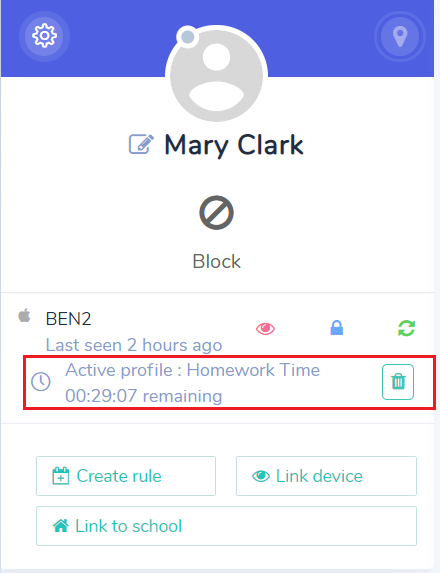 Please note: When using an Override rule, If you choose to activate the override rule with the option of "Until I cancel it", you must remember to turn it off it or it will continuously override the schedules you have set for the child. It must be turned off, or it will no longer abide by the schedule.
When the timer runs out: The rule will revert back to its original state and continue to follow the rule schedule you set up.
To remove the override rule before the timer runs out, you must select the "trash" icon to send the device back to its original state.
School Linked Device
If your child's device is linked to their school and their device is at school, the active profile will be set by the school. At this stage the school will have control over the device.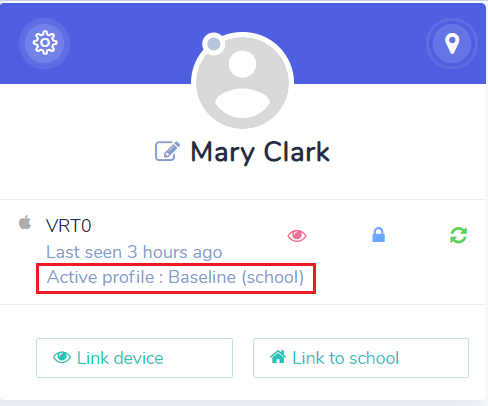 Well, Congratulations you now know how rules work and how to apply them.
Please let us know if you found this helpful.
Thank you for reading :)