This article covers the enrollment of an iOS device in the Mobile Guardian platform using the URL provided. This method of enrollment is especially useful when trialing Mobile Guardian and wanting to get a device enrolled quickly. As a URL is required, this method can be used to enroll devices one by one. It shouldn't take longer than a few seconds to get the device enrolled.
The video below shows the full process and this is followed by a step-by-step guide:
Follow the steps below for detailed instructions on how to enroll an iOS device using a URL:
Step 1
You can navigate to the page to add a new device by following Devices > Add new school device from the menu bar on the left. Click on Add new school device.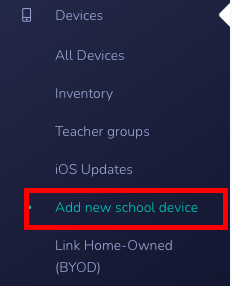 Step 2
The Add new school device screen will be displayed. Select the iOS tab as shown below:
Open the Safari browser on the device and enter the URL provided. This is a unique URL for the school and can be used to enroll all devices using this enrollment method. Click enter when the URL has been inserted and this will start the enrollment process on the device.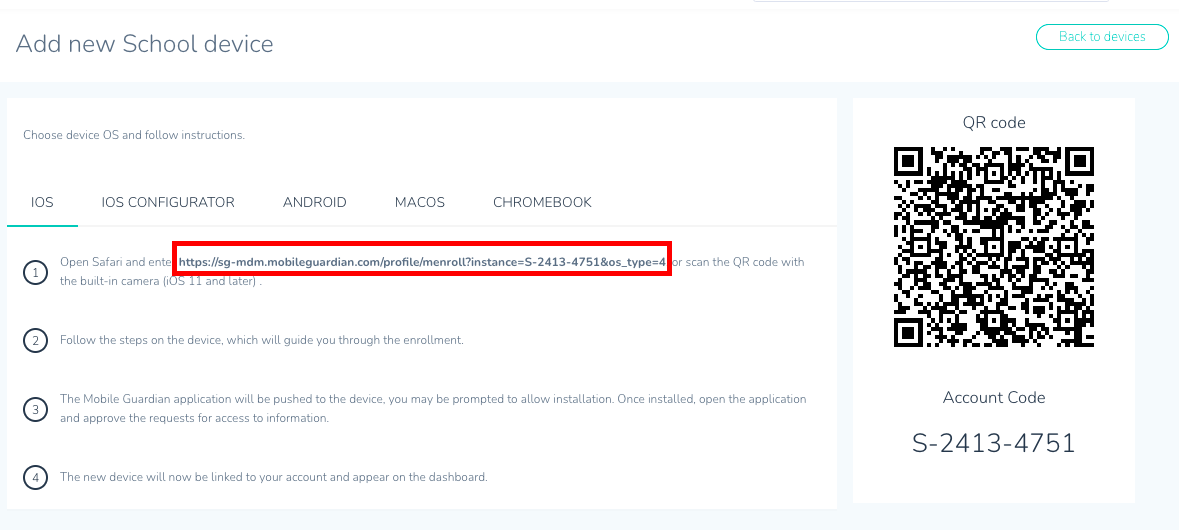 Step 3
The user will be prompted to allow installation which takes a few clicks and then the device will be managed in the Mobile Guardian platform.
Step 4
Navigate to the All Devices menu item to view the list of devices and the enrolled device will be in that list if the enrollment process was successful.

To check this, the user can see in the Type column for the enrollment icon:

If this icon appears then the device is now enrolled.
Your device should now be enrolled! Please see the Device list view and Device detail view articles to learn more.
For more Onboarding Device Videos Tutorials Click here