Learning the ropes of any Mobile Device Management Solution may be a daunting task for most. With the right guidance though, anyone can learn to make the most of its features to create the perfect learning environment for students.
The Mobile Guardian Knowledge base is a portal created for school administrators, teachers and parents alike. Through the articles on this site, every user will be able to familiarize themselves with using the functions of the product, review processes on how to set up specific configurations and perform basic troubleshooting.
If a user decides to make an account, they will also be able to use their account to review tickets, leave comments on articles and follow any changes made to their favorite articles.
Navigating the Mobile Guardian Knowledge Base Interface
When a user visits the Mobile Guardian support page via help.mobileguardian.com, they will first be redirected to the home page, as shown below.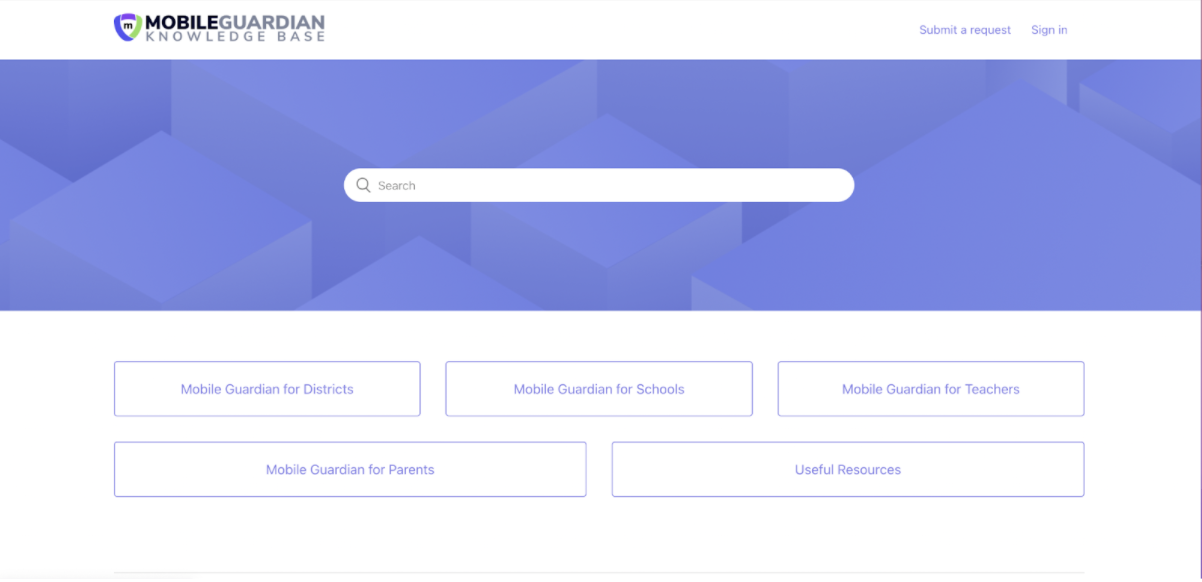 The articles have been conveniently organized by user base.
School admins can choose to visit "Mobile Guardian for Districts" or "Mobile Guardian for Schools" based on what features they want to apply from a district administrator or a school administrator level. These include profile configuration, Application blacklisting/whitelisting and school wide web filtering. Teachers may visit "Mobile Guardian for Teachers" to familiarize themselves with the classroom tools, including modes, in-classroom features like tab management as well as post class documentation. Parents may visit "Mobile Guardian for Parents" to familiarize themselves with the parent interface and its functions which include block screens, home web filtering etc.
Most questions on how to use the product will be available on the website. If you require help with advanced troubleshooting or are unable to find the answer to any questions from the articles provided, you may send an email to support@mobileguardian.com.
Creating a Mobile Guardian Support Account
In the case that you have multiple tickets open or you are a partner servicing multiple Mobile Guardian clients, you may consider creating an account to keep track of issues.
You can create an account by clicking "Sign in" on the upper right of the home page. A pop up window will appear as seen below.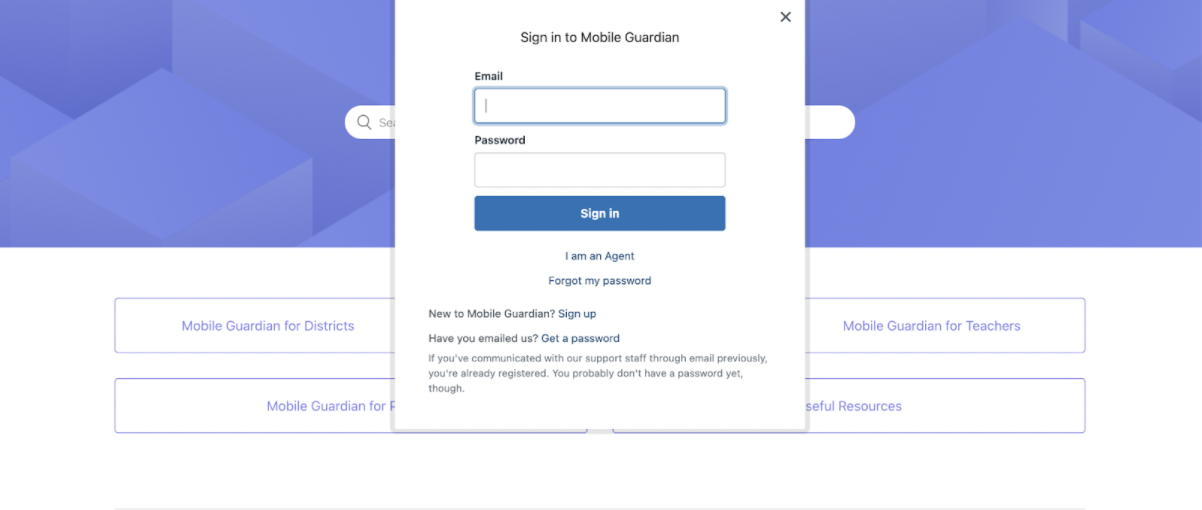 For new users, you may choose to create an account via the "Sign up" button on the screen. For partners, Mobile Guardian may have created an account for you beforehand and you may use the details provided to you.
Once logged in, you will find your username on the upper right hand corner of the screen.
Upon clicking it, a drop down menu will appear with three options: My Activities, Edit my Profile and Sign out.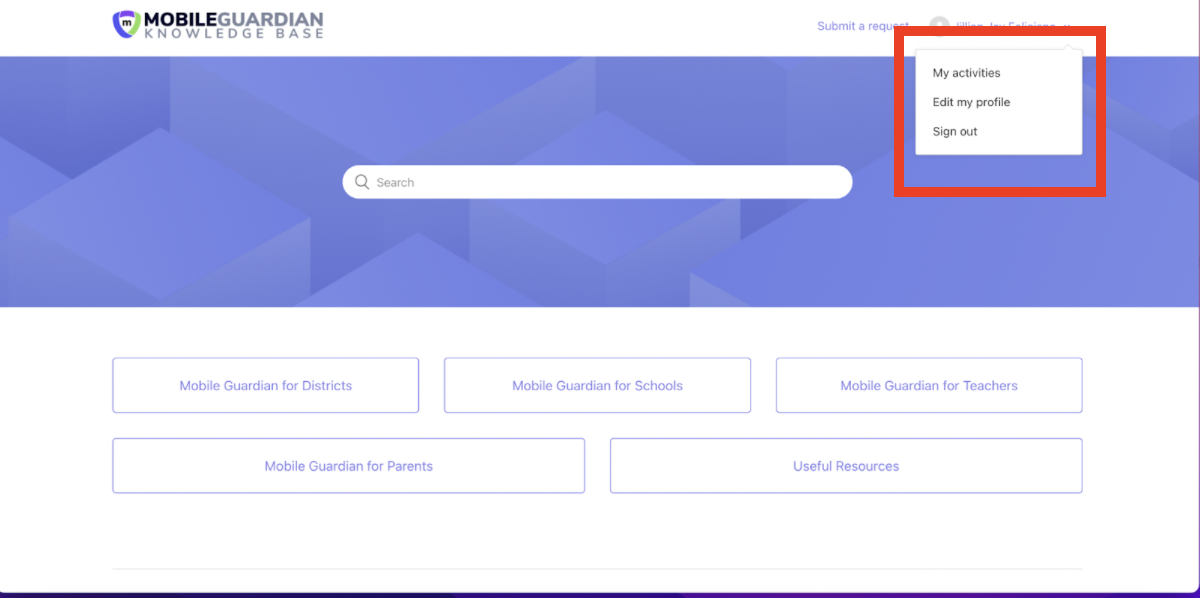 "Edit my Profile" will give you the option to change your profile picture, your username or the contact details associated with your account. Rest assured, all contact details provided will only be visible to the Mobile Guardian team.
"Sign out," as the name indicates, is where you can log out of their profile.
Under "My Activities," users will be able to view all raised tickets, all comments and all articles they have followed.
Upon clicking, you will be navigated to the "My Requests" tab as shown below.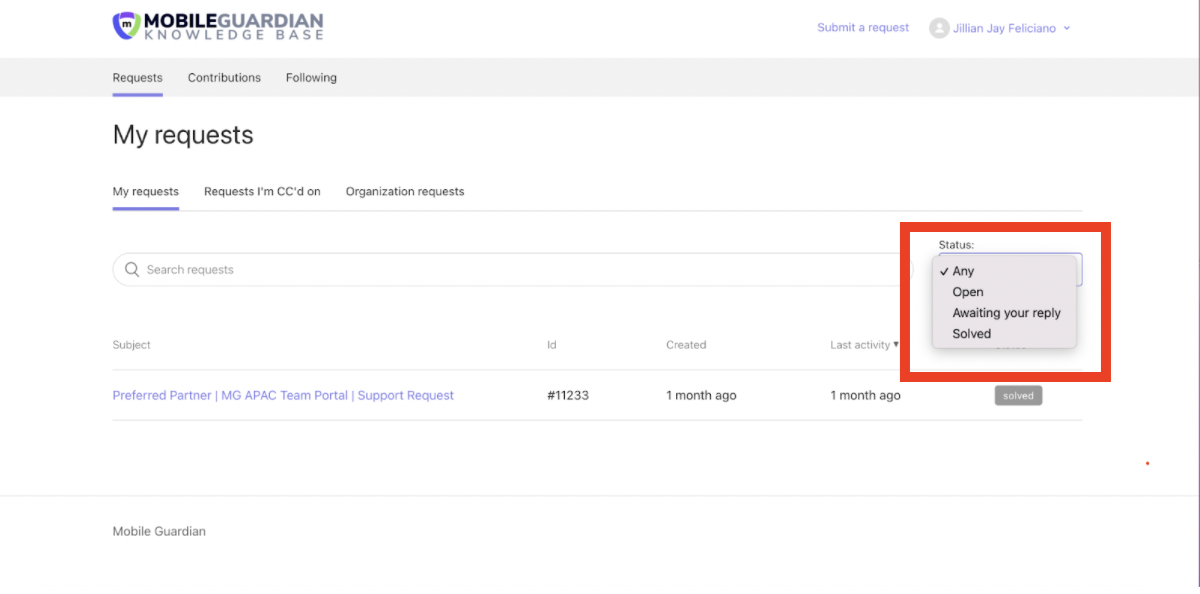 Under the "My Requests" tab, you will find all the requests you have raised to Mobile Guardian and the status of these requests.
Our Support Portal will assign one of three statuses to each ticket.
Open: The support team is currently looking into said ticket.
Awaiting your Reply: The support team is requesting more information from you on said ticket.
Closed: The issue has been resolved. Someone from the support team will confirm with you if the issue has been resolved, if they receive no reply after a week, they will close the ticket.
Aside from your own requests, you may have other tickets visible to you.
Under the "requests I'm CC'd on" tab, you will find all the requests to our Mobile Guardian email support@mobileguardian where you have been CC-ed.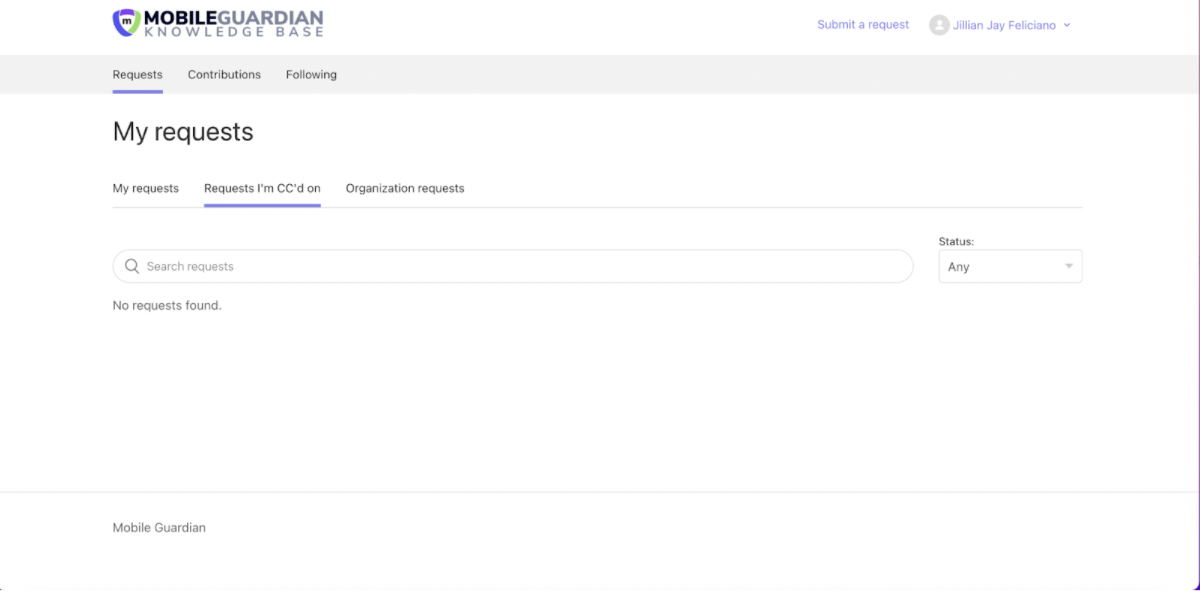 Under "Organization Request," you will be able to find all support requests raised by users from your organization. This will be particularly useful for Mobile Guardian partners.
All lists can be filtered by status of tickets or by organizations ( for those with multiple organizations). You may also take advantage of the search function to find specific tickets by keyword. If you are considering sending an email to our support team, we recommend that you use relevant keywords (applications, profiles, web filter etc.) when creating an email subject.
Aside from reviewing your requests, you can also review your comments on MG articles under the Contributions tab. You can also review all the articles you follow under the Following tab.
If you have any more questions on how to navigate the interface, feel free to send a message to support@mobileguardian.com. We will be more than happy to assist you.