Permissions are designed to provide schools the ability to give Teachers and Parents permission in order to manage classes and child devices.
What you'll learn:
About Mobile Guardian's User Permissions

Categories, Groups, and more methods of management within User Permissions

How do grant teachers & parents access to User Permissions
Note: - Classroom management subscription is required for teacher permissions, available through our Learn and Campus solutions.
About Permissions Groups:
Permission groups are controlled at the district level.

The only functionality available at the school level is the assigning of teachers and parents to groups.

Any school linked to the District later will be allocated the same default permission groups and permissions seeded to them on creation.

A user may only belong to one permission group for their role per school.

Admins can create separate permission groups for Teachers and Parents.
Note: If the school is not attached to a District the school admin will be able to manage the permission groups.
You will find the Teacher and Parent Permissions under the User Management heading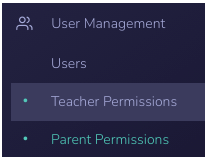 Default permissions groups
Default permissions groups are basic groups with permissions outlined for instant use by District and school administrators.

Each permission group has four categories.
Teacher Group - Modules, In Class Actions, App Management, and General
Parent Group - General, Home device privacy, Child & Device Details and Modules
Each category has a selection of permissions related to these categories and allows the admin to select which permissions they would like to assign to the teacher or parent.
Teacher Group
The default Teacher Permission group is named Full Control

This group assigns all permissions to teachers and allows teachers to perform all the below-listed permissions during their class.
Categories:
Modules

- Provides permissions for the teacher to perform general tasks, such as web filter actions, and basic management of student information

In-Class Action

- Provides permissions for the teacher to action tasks during class

,

such as direct messages to students and share screens on certain devices OS. (Chromebook and Android)

App Management

- Provides the teacher the ability to block applications during class

General

- Provides the teacher with general management during classes most notably the ability to configure force join settings and sync Google Classes.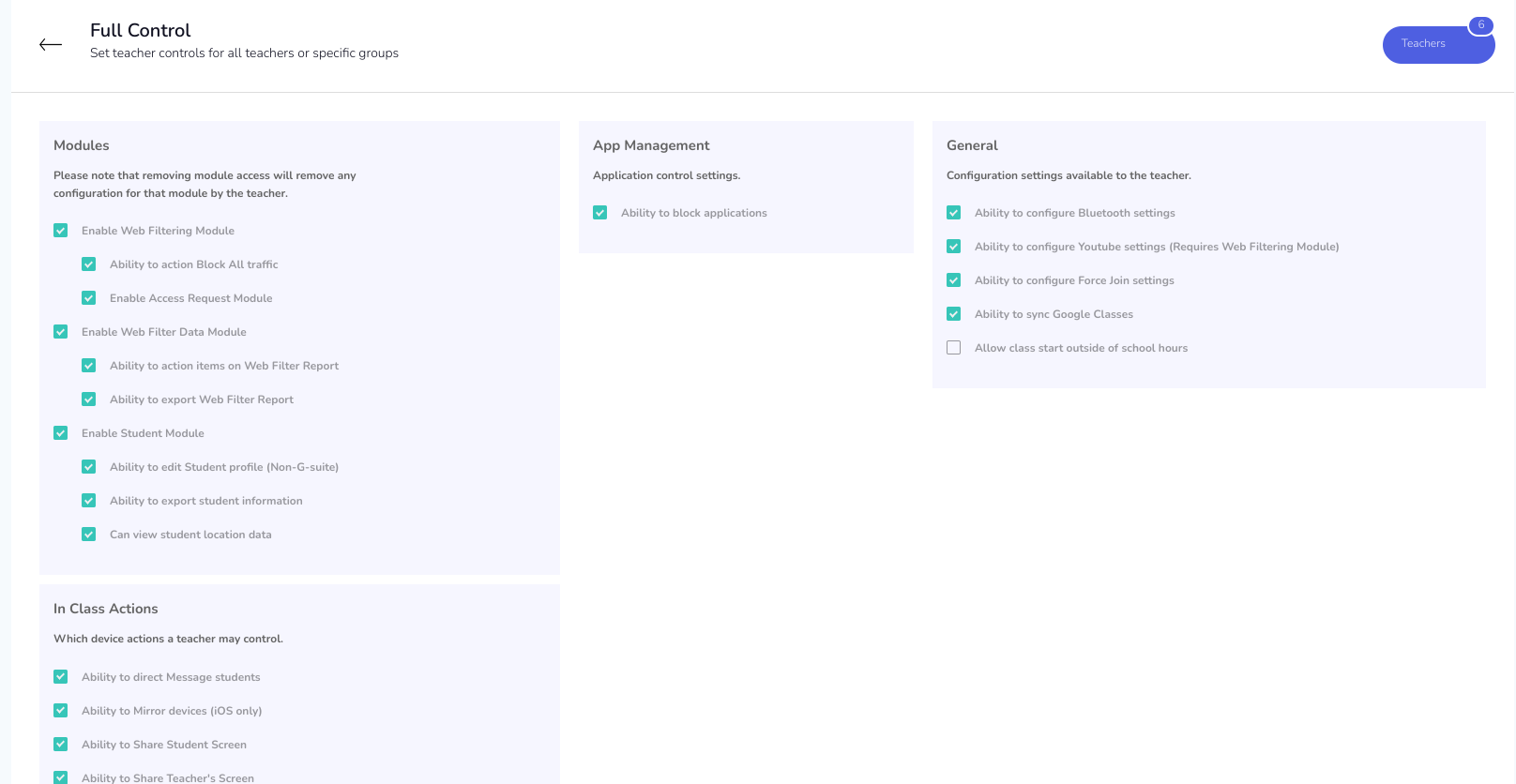 For a more detailed description of the Teacher, permission click HERE
Parent Group
The default Parent Permission groups are named Full After-Hours Control and View Only

Full After-Hours Control group assigns permissions that allow the parent to perform selected restrictions and management of devices after school hours. The device would need to be out of school hours and on the Parent Profile for these permissions to be enforced.
The View Only group allows the parent to view the selected information without being able to action any commands.
Categories:
General - provides the parent with general permissions relating to the addition of children, devices, and applications.
Home Device Privacy - Provides the parent with permission to track the location of the device, applications, and web history of a home-owned device.
Child & Device Details - Provides the parent with permission to track the device, view data, and perform actions on the device.
Modules - Provides the parent with permission to add restrictions for browsing, applications, device restrictions, and location.
A detailed list of available Permissions: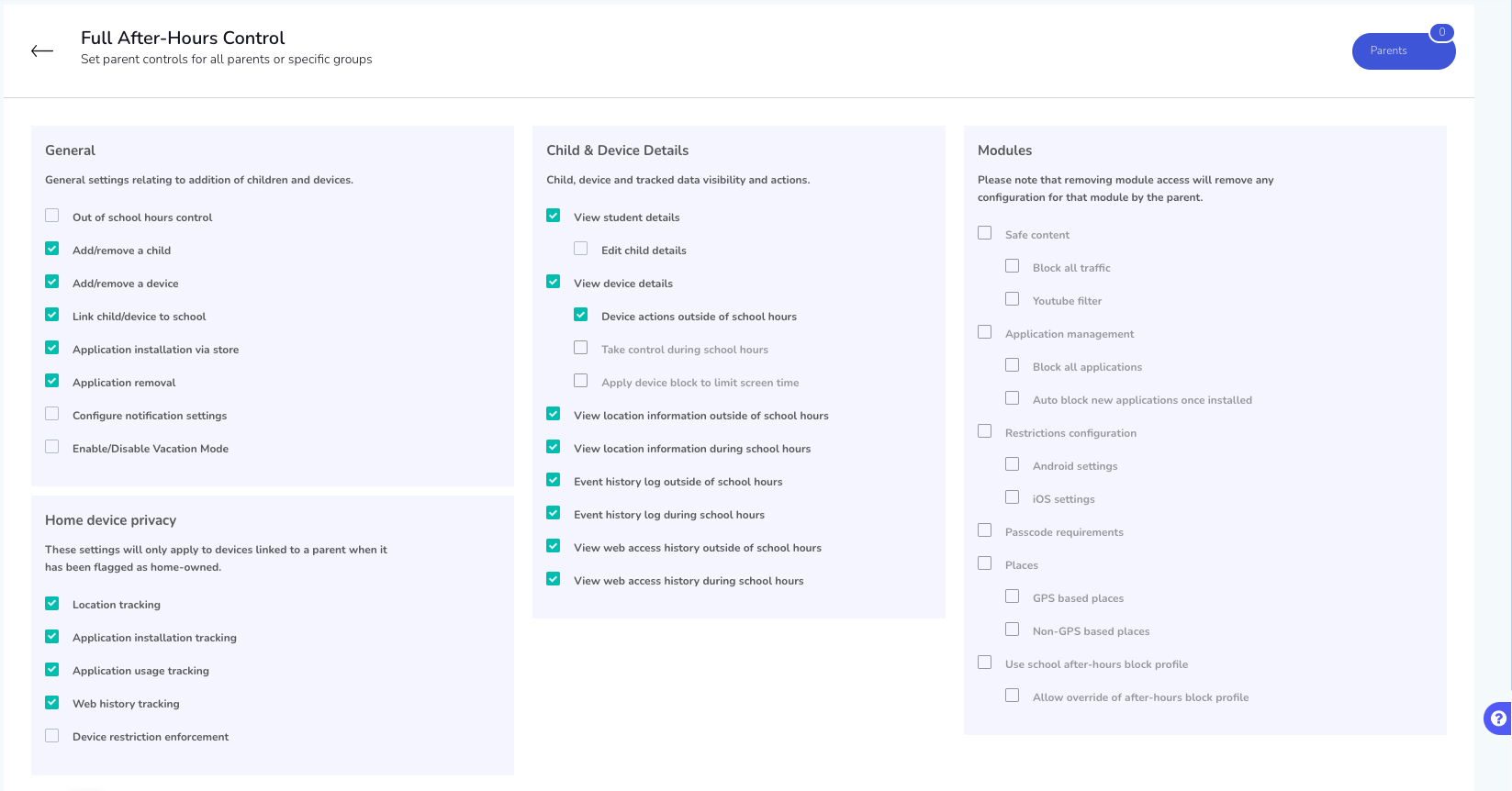 For a more detailed description of the Parent, permissions click HERE
Please let us know if you found this helpful!
Thanks for reading :)