Teacher groups should be used to allow your teachers the ability to have a degree of control of students and their devices in the classroom. Using these groups, Teachers can control the provisioning of iOS applications and books on the devices as well as certain student actions in the classroom.
As an Administrator, you can use the Teacher group to set up permissions for your teachers within the classroom setting. These permissions will allow the teacher to, therefore, administer certain actions to the devices and students added to the Teacher group.
The first we will do is to create the "Teacher Group".
Once logged into your Mobile Guardian School Dashboard on the navigation panel on the left, click on "Devices" and then click on "Teacher Groups".

Once you have clicked on the Teacher Groups, you will be directed to the "Teacher Group List", on the group list page click on "Add Teacher Group +"

Once you click on "Add Teacher Group +", you are directed to the "Info" page.
On the Info page, you would need to fill in the "Group Name", of the teacher group
The Set Permissions section is categorized into two areas, permissions to administer Devices and Student linking.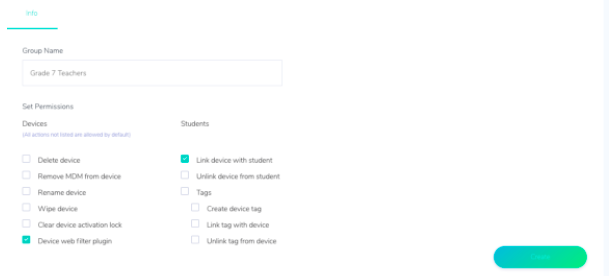 Once you have filled in the Group names and set permissions, you can proceed to click on the "Create" button on the bottom left corner.
The next step is to navigate to the Devices tab to assign devices to the Teacher group. These devices should be the student devices needed for that teacher.

You will also be able to bulk assign the Teacher group in the Device section by clicking on "All devices". Select the devices from the list and Click on "Actions". In the Drop down menu select "Assigned to Teacher Groups", Once you have searched and assigned the relevant Teacher group, you can navigate back to the specific Teacher group and view your assigned devices.
The next step is to add your Teacher(s), search for the teachers' name in the input field provided, and select the relevant teacher. Click the Add button and the teacher will be linked to that Teacher group.

Teachers have the ability to request licenses or access to applications they might need during a class.
In the teacher group section, you have the "Application" tab, you can assign applications to the teacher for use in their classes.

Once you have added the requested applications, they will appear in the Classroom Management dashboard in their classes.
Please note: Ensure that whatever change you make, you click the Save button on the Info tab to ensure the rules you have set are applied.
Please let us know if you found this helpful!
Thanks for reading :)