The Application Management section allows you as a teacher to configure applications allowed or potentially blocked for your class. This section gives you more control over what your student should be accessing during your class session to ensure optimal focus and productivity.


The Application Management section has two sections:
1. Allowed Applications
Allows you to define what applications your students can make use of during a class. Only the apps listed will be allowed when this class is active. In this case the applications are most likely on the students devices.
2.Class Apps (Only if configured by Admins)
These apps configured by your school admin before your class sessions. These applications are normally defined as apps permitted for students to use during your classes. These can be set as automatically installed or self-install for the students.
Let's first look at Allowed Applications.
Allowed Applications
As mentioned above, this setting is great for allowing students to access existing installed applications during class.
There is a toggle which allows you to Block all Applications in the event you would prefer no access to any applications during class. If this toggle is set you can optionally add apps to the allowed list so that certain apps are whitelisted.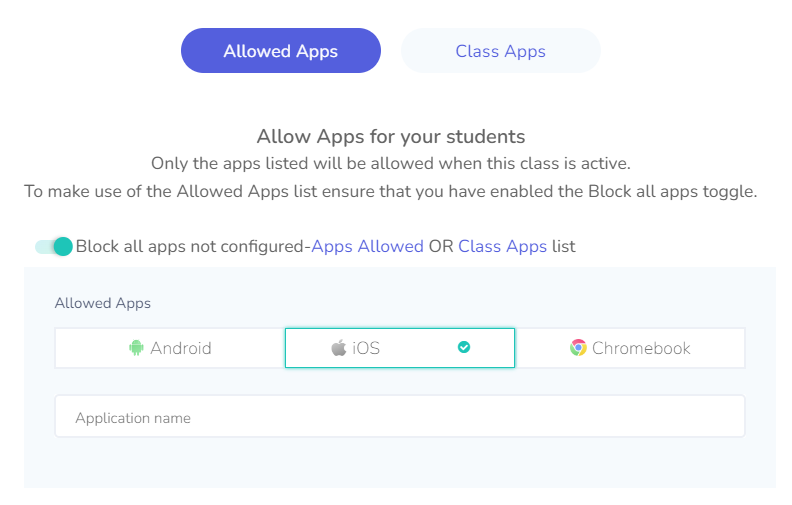 It is important to note that if no applications are added to the list then all applications will be accessible. Conversely, if apps are added to the Allowed list, all other apps on devices will be blocked.
To search for an app, enter an app name or part thereof and then click on the + icon. This will add your app to the bottom of the list.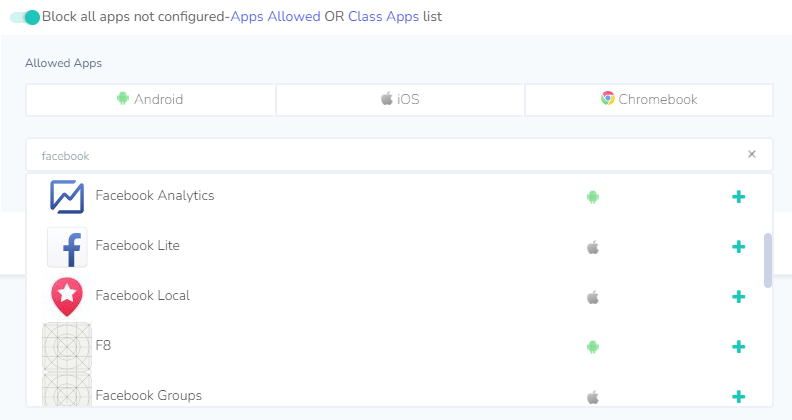 The new application is now linked to the class you selected. If you want to remove it, click on the Bin icon
Class Applications
(Only if configured by Admins)
If this section is not visible on your dashboard then it means that you have not requested any specific applications for your class. The apps configured here are for iOS and Android EMM.
Class apps should be requested before class sessions, these requests should go to your admin so that they can configure these applications for your classes.
Applications configured for your class will appear in this list to allow you to associate/install on your student devices.