Instant Actions allow you as a teacher to keep lessons on track by locking devices, forcing eyes up, messaging a student or blocking all traffic.
You can select instant actions for one student or the entire class.
Choose from the list of Instant Actions below:
Direct Message
Lock Devices
Eyes Up and Eyes down
Single App Mode (iOS Only)
1. Direct Message 

You can message your class by clicking on the Message button, typing your message in the space provided and clicking Send.

 Conversely, you can message an individual student by click on the Message icon on their card.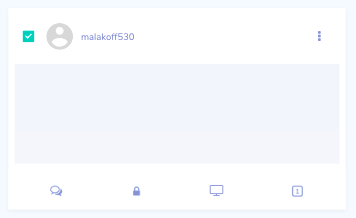 Watch the video below for a quick guide on how to message your students.
2. Lock Devices
As a Teacher you have the ability to lock any students device during a lesson. This is a handy feature when you need them to stay off the device and interact during a lesson.
 Simply select the Student(s) devices you would like lock and click the Lock button.

By initiating this action the students device will display the device Lock screen.
Conversely, you can lock  an individual students devices by click on the Lock icon on their card.
To remove the lock mode just click the Unlock button.
3. Eyes Up and Eyes Down (iOS only)
The Eyes Up and Eyes Down action is another handy action to use when you need the students attention during the class setting.
When enabling this action, your selected student(s) devices will display an Eyes Ups Screen alerting students to please pay attention to the activities in the classroom.

 To enable this action select the relevant students and click on the Eyes Up button at the top of your dashboard.

Conversely, to allow the students to access their devices just click the Eyes Down button.
4. Single App Mode (iOS only) 
Single App Mode is a feature for supervised devices, it restricts the device to run only one app. While Single app mode is enabled, the Mobile guardian app will remain in the foreground.
Teachers can set all iOS devices to Single app mode for improved student focus during lessons, test and exams.

To apply Single app mode, select the relevant Students to apply this instant action > Click the Single app mode button at the top of your Dashboard.
Select the Application you wish to run and the action will now be applied.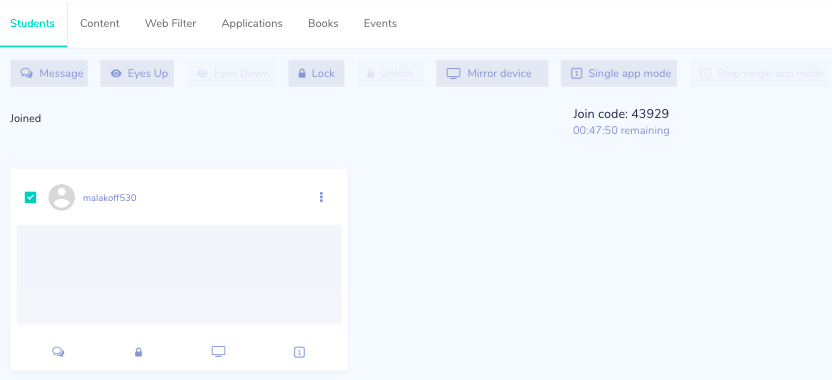 To end Single app mode, Click on the Stop Single app mode button at the top of your dashboard.