Class Material allows you to setup and prepare all the great content, allowed applications and configure your website restrictions for your class.
let's take a look at your class material options.
Content
First step is to define the content you want to share during your classes, this content will be accessible on the students device.
You can add the following types of content to enhance the interactiveness of your classes:
Website URLs
Web Clip (iOS only)
Media (images, videos and URLs)
Youtube Videos
Vimeo Videos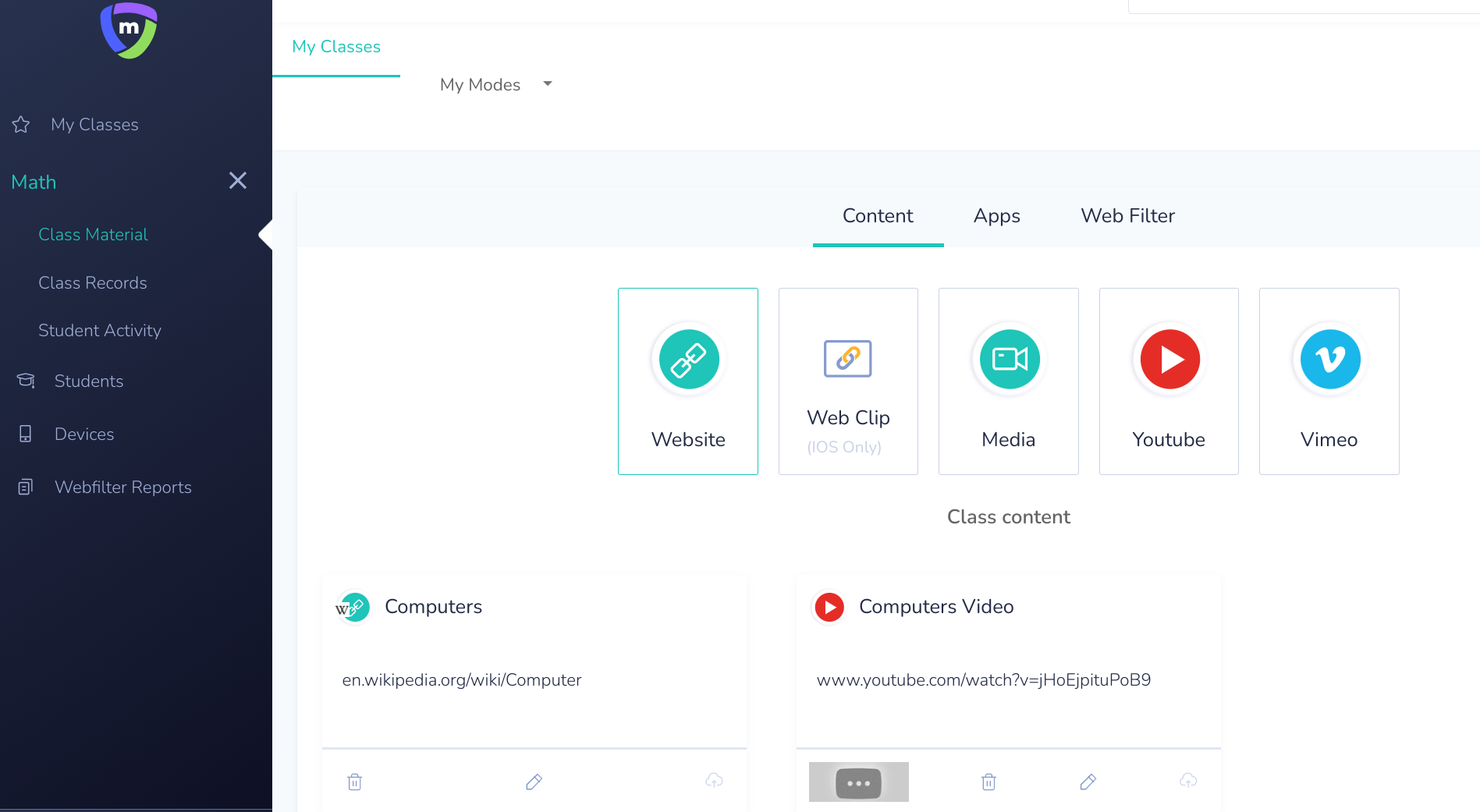 Please Note: For the following content there are additional steps.
i. Adding Media
If you are intending to use approved media content, these files will need to be uploaded by your school IT administrator. Note: Ensure that you have requested the relevant media to be uploaded before your classes are scheduled to start.
ii. Add Web Clip (iOS only)
Web Clips are a great way to allow your students to gain quick and easy access to websites you might want to access on a continual basis.
Select Web Clip, Click Add the icon to add an image that would like to display on the homepage.
Add a Label, Add a valid Website URL and toggle Removable setting to prevent the students from removing the Web Clip. Click Save.
Applications
The Application Management section has two sections:
1. Allowed Applications
2. Class Apps (Only if configured by Admins)

Allowed Applications allows you to define what applications your students can make use of during a class. Only the apps listed will be allowed when this class is active. In this case the applications are most likely on the students devices.
Class Apps are apps configured by your school admin before your class sessions. These applications are normally defined as apps permitted for students to use during your classes. These can be set as automatically installed or self-install for the students.
To see more detail on managing applications visit the Managing Your Student's Applications guide.
Web Filter
Web Filter configurations are set up as part of your class restrictions to define what students can browse online. Once configured it is assigned to a set of students/devices so you can prohibit a user from accessing explicit content on that device/s. Web filter settings include; managing online content via category selection, channels and videos to blocklist or allow list.
To see more detail on setting up your Web Filter restrictions visit the Enable Web Filtering guide.
Watch the video below to see how easy it is to enable web filtering.