Mobile Guardian is now available in multiple languages. 
When you are on the Login page, there is the language selector which allows the ability to switch from one language to the next. This is found on the top right hand side of the page. This then sets that language for the dashboard once logged in.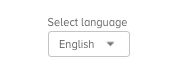 Once logged into the dashboard, the user is able to switch the language once again. The language selector can be found in the My Profile section.